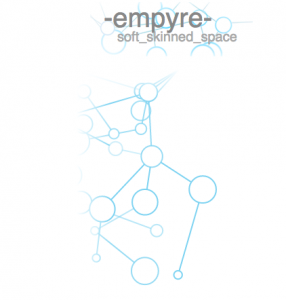 -empyre- is a global community of new media artists, curators, theorists, producers, and others who participate in monthly thematic discussions via an e-mail listserv.
-empyre- facilitates online discussion encouraging critical perspectives on contemporary cross-disciplinary issues, practices and events in networked media. The list is currently co-managed by Renate Ferro (USA) and Tim Murray (USA) with the moderating team of Simon Biggs (UK), and Patrick Lichty (USA). Melinda Rackham (AU) initiated -empyre- as part of her doctoral research in 2002.
For the month of March 2016, Renate Ferro, has asked me to moderate a conversation on all things #ArtTechFood.
We were joined by a number of luminary artists and curators, as discussants. They are: Nicole Caruth, Shu Lea Cheang, Leila Nadir, Jodi Newcombe, Marina Zurkow, Stefani Bardin, Shilpa Rangnekar, Hernani Dias, Amy Lipton, Natalie Jeremijenko, and Mary Mattingly.
The discussion is here on the March 2016, -empyre archive, and for the final part of the discussion check the first few posts in the April 2016 -empyre archive.
ART/TECH/FOOD Moderated by Amanda McDonald Crowley and Renate Ferro with invited discussants:
March 3 – Week 1: Stefani Bardin, Marina Zurkow, Hernani Dias
March 11 – Week 2: Shu Lea Cheang, Amy Lipton, Mary Mattingly
March 17 – Week 3: Nicole Caruth, Leila Nadir, Jodi Newcombe
March 24 – Week 4: Natalie Jeremijenko, Shilpa Rangnekar
Welcome to the March discussion, ART/TECH/FOOD
For our discussion on Art/Tech/Food, our hope is to identify and discuss projects and research that to bring biologists, environmentalists, food activists, and molecular gastronomists, together with artists to deliver urban agricultural strategies, bio-generative art, and potentially even open source software and hardware solutions that address our food systems.
We are especially interested in a discussion of projects and programs that undertake a critique of the commercialization of food production, where contemporary consumption is more likely to be watching people prepare food on television than spending time in the kitchen. Our observation is that where discussion does happen it is often either inside the food justice movement, with little cultural context; or in an art context, where discussion of policy, food justice, or broader cultural context of food production is almost entirely absent. Food is either designer-sexy, or a social justice issue, but rarely both. And there has been little exploration of the historical and contemporary trade routes of food and how they affect our cultural landscape.
This month of March, 2016 we invite the –empyre subscriber list to discuss these issues in our soft-skinned space with our distinguished group of weekly guests. Looking forward to it.
TO MAKE A POST TO THE SUBSCRIPTION LIST USE:
<empyre@lists.artdesign.unsw.edu.au>
TO ACCESS ARCHIVES USE THIS URL:
http://lists.artdesign.unsw.edu.au/pipermail/empyre/
TO ACCESS THE WEBSITE FROM THE CORNELL SERVER TO FIND OUT MORE ABOUT EMPYREGO TO:
http://empyre.library.cornell.edu
Moderator Biography:
Amanda McDonald Crowley https://publicartaction.net
Amanda McDonald Crowley is a curator and cultural worker who specializes in creating contemporary art and new media events and programs that encourage cross-disciplinary practice, collaboration and exchange. This kind of programming might best be described in terms of practice-based, creative research leading to a range of outcomes understood in terms of both traditional and non-traditional curatorial outputs – exhibitions, residencies, public programs, festivals, and participatory programs. Amanda's work has largely been at the intersection of art + technology, and her experience and interests often revolve around working with artists and groups who have a research based practice. In her curatorial work, she is interested in developing platforms to generate dialogue, bringing together professionals and amateurs from varied disciplines, and creating space for social change and audience engagement.
Most recently, a key curatorial research focus has been around the topic of food + art, as evidenced by recent curatorial projects, including the exhibition food nostalgia, currently on view at Radiator Gallery in Long Island City, NYC; Circuit of the Senses, a celebratory meal and participatory event conceived by artist Emilie Baltz at the Bemis Center in Omaha, Nebraska in 2014; GastroLabs, a program series developed with New Media Scotland for the Edinburgh Science Festival 2014; and the exhibition CONSUME at Gallery gallery@calIT2 at the University of California, San Diego in 2012.
She has previously held positions as Executive Director of Eyebeam art + technology center in New York City – recognized internationally as a model for collaboration and innovation in art + technology; executive producer for ISEA2004 (International Symposium for Electronic Arts 2004) held in Tallinn, Estonia and Helsinki, Finland, and on a cruiser ferry in the Baltic sea; Associate Director of the Adelaide Festival 2002 in Australia, and in this position she was also co-chair of the working group that organized the exhibition and symposium 'conVerge: where art and science meet'; and Director of the Australian Network for Art and Technology (ANAT) where she made significant links with science and industry by developing a range of residencies and masterclasses for artists in settings such as science organizations, contemporary art spaces and virtual residencies online.
Amanda has also been subscribed to the empyre list since it was founded by Melinda Rackam in 2002, though she mostly lurks.