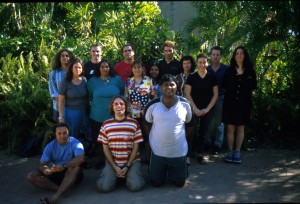 The inaugural ANAT National Indigenous School in New Media Art took place from 3 – 24 July, 1999 at Northern Territory University in Darwin. Brenda L Croft (Gurindji) Indigenous artist, curator, writer, lecturer and consultant co-curated and managed the project. Tutors were: Rea (Gamileroi/ Wailwan); Cameron Goold; Skawennati Tricia Fragnito (Mohawk First Nations, Canada). All the participants – participating artists, tutors and project staff alike – learned from each other as much as from the teaching aspects of the school. Many people in the Indigenous and arts/cultural communities in Darwin warmly welcomed the participants, and ended up participating in many of the activities as well as looking after and entertaining the group throughout the three weeks.
Whilst the artists focused on the development of skills, the sharing of knowledge, and their own artwork, a key aspect of this project was that artists were also influenced by their surroundings.
The fourteen artists selected to participate in this project were:
Kathleen Arbon, Arabunna, lives Darwin, NT
Sandy Carter, Ngarrindjeri, lives Renmark, SA
Jason Davidson, Gurindji, lives Darwin, NT
Jenny Fraser, Bundjalung, lives Brisbane, Old
Fiona Giles, Ngarrindjeri, lives Renmark, SA
Lindsay Haji Ali.Yawuru, lives Broome, WA
Joanne Hamilton, Wiradjuri, lives Sydney, NSW
Gordon Hookey, Waanyi, lives Sydney, NSW
Clara Inkamala, Western Arrernte, lives Hermannsburg, NT
Keith Munro, Kamileroi, lives Sydney, NSW
Carol Panangka Rontji, Western Arrernte, lives Hermannsburg, NT
John Smith Gumbula, Wakka Wakka/ Gurang Gurang, lives Brisbane, Qld
Karl Telfer, Nurrangga/Kaurna, lives Adelaide, SA
Christian Bumbarra Thompson, Bidjara, lives Melbourne, VIC
'The workshops allowed for interaction between students which strengthened our class and living relationships. The school offered a strong creative base that is important for Indigenous people. All in all, NISNMA gave me the knowledge to comfortably venture into the exciting world of new media."
Everyone who came through the school during the period remarked upon the terrific 'vibe' that the project created in the Fine Arts School of NTU. The participants skill level varied considerably, so whilst some were getting a 'crash course' in new software applications, others were getting a 'crash course' in simply using a computer to access telecommunications networks and generate and manipulate images and generally getting a feel for where they might be able to use these skills in the future. The project was unique in the incredible sense of sharing and community it developed and input from tutors and students alike was incredibly enthusiastic and enriching. The 1999 ANAT National Indigenous School was developed in partnership with the School of Fine Arts, Northern Territory University, Darwin, with enthusiastic support from Chris White.
Two residencies also resulted from the program:
Jason Davidson (NT) at 24Hr Art, Darwin
Christian Bumbarra Thompson (Vic) at Centre for Contemporary Photography, Melbourne.