Urban Design Lab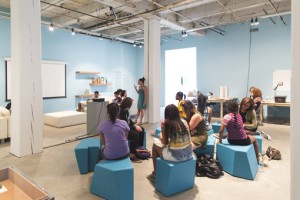 Urban Design Lab
Bemis Center for Contemporary Arts, Omaha, NE
July 15 – November 1, 2014
In Summer 2014, I invited Chloë Bass and Teal Gardner to participate in the Bemis Center artist-in-residence program where they collaborated with 18 local researchers to shed new light on the nature of our urban landscape. Recruited from local high schools, the researchers first completed research for the Department of Local Affairs. Each teen filled out one of the templates listed below, sharing information about his or her experience of Omaha: making a map, designing a pamphlet, writing a review or offering advice. The shared information ranged from an account of where one student's relatives lived in the context of her neighborhood to advice about how (and how not to) use particular parks for social activity.
Once trained in the Department of Local Affairs' interactions and processes, researchers went into the community and asked local residents and workers to share information with the Department. One research day focused on the Old Market area, where teens engaged people at the Omaha Public Library, a coffee shop, an antique store and on the street. The second research day was focused in North Omaha, where teens collected information from people at Carver Bank, Love's Jazz and Art Center and the Union for Contemporary Art.
Bass then organized the collected materials into a subjective guidebook. The Department of Local Affairs office installation is on view as part of the Urban Design Lab exhibition at the Bemis Center.
The Lab participants, who were recruited from local high schools, toured various parts of the city as field researchers and then synthesized their data in the Bemis's gallery space, which consists of two parts: Chloë Bass's The Department of Local Affairs and Teal Gardner's Reading the City.
At the end of each week of data collection through Department of Local Affairs and Reading the City, the researchers worked as teams to develop as an intentional form of play. They were charged with the task of repurposing the sights and sounds they recorded into new tools and bodies of work, which will be offered to other visitors and participants in this space throughout the exhibition.
Taken as a whole, the Urban Design Lab provides deep, media-rich data about the city in which we live, as well as a new synthesis about the meaning of that data. As a place where new ideas and work are created, the Lab also echoes the ongoing creative processes that are at the heart of the Bemis Center's internationally-recognized artist residency program.
The outcomes of research were shared at a Presentation Day on August 5, 2014
Curriculum
Department of Local Affairs
Reading the City workshops
Maker Days
Chloë Bass also realized her Department of Local Affairs over the summer of 2014 with the Laundromat Project, and also wrote a series of posts, Learning Omaha, on Hyperallergic during her residency.
Press:
"A laboratory experience," by Casey Logan, Omaha World-Herald (behind pay-wall) and on Omaha.com (available online) September 2014.
About the Artists
Chloë Bass
In creating conceptual art (performances, situations, installations, publications), Chloë Bass's goal is to investigate the potential of the everyday as a catalyst for intimacy. She is captivated by the common denominators of the human experience, such as the things that people always do, and she seeks to highlight the seemingly normal as a means of questioning its stability. Bass's primary medium is people, and she uses performance as a metric to evaluate the successful function of interaction and engagement – person to person, and between people and their surroundings – rather than a spectacle for passive enjoyment. The artist has been a resident at POGON (Zagreb, Croatia), D21 Kunstraum/5533 art space (Leipzig, Germany and Istanbul, Turkey) and Eyebeam (NY, NY) and has shown her work at venues such as the Neuberger Museum (Purchase, NY), Künstlerhaus (Stuttgart, Germany), Kunstkammer AZB (Zürich, Switzerland) and the Contemporary Art Institute of Detroit (Detroit, MI). Selected profiles of her work have appeared in BOMB, Entorno, ArtInfo, Art Observed, the New York Times and Hyperallergic. She is the recipient of a 2013 Fellowship for Utopian Practice from Culture Push and a 2011 & 2012 Rema Hort Mann Foundation Individual Artist Grant Nominee. The artist earned her BA in Theater Studies from Yale University and an MFA in Performance and Interactive Media Arts (PIMA) from Brooklyn College.
Teal Gardner
Teal Gardner's work centers around an interest in children's play and the conceptual and physical spaces that are available for that play. The political, social, aesthetic and ecological facets of children's play environments provide ample fodder for her investigation. Through a practice that is concerned with praxis, she utilizes social scenarios to bring about action. This can mean installing a show with children as collaborators or transforming a gallery space into a 'free play zone' and inviting the community to participate. Gardner binds together this work with writing, informed by research into pedagogy, design, landscape architecture, public policy, neuroscience, developmental psychology, ecology, philosophy and art history. A former fellow at the Union for Contemporary Art in Omaha, the artist attended the University of Nebraska, Lincoln, where she majored in Anthropology with minors in English and Art.
Lead Researchers
Nia Allison
Giovanni Barraza
Serenity Bryce
Hayley Danielson
Tori Dunston
Ta'Riance Harris
Michaela Hawkins
Cecilia Hoggatt
Tasheonna Lewis-Kent
Imani Murray
Eva Philips
Ana Pineda-Gutiewez
Daniel Pinto
Luis Salazar
Eros Shreve
Eva Taylor
Claire Tweedy
Brent Walker
Solomon Washington
Owen Zahm
The Urban Design Lab is generously supported by Lincoln Financial Foundation.