Cey Adams: LOVE mural
At my invitation, NYC native, Cey Adams, undertook a residency at the Bemis Center for Contemporary Art in Omaha, Nebraska. A key output of his time as a Bemis Center artist-in-residence was a mural commission in the North Omaha cultural precinct at 24th and Lake Streets. Adams worked with local artists Dereck Higgins, Ben Jones, Aaryon Williams, and Olivia Groth, and with the support of students from Omaha-area high schools to realize the work. Local artist Michelle Troxclair provided logistical support and photographers John Shartrand & Mike Machian documented the process.
As described by Adams, the 24th Street Love Mural captures the hopes of the community for the future while also referencing its past, in the form of famed North Omaha jazz musician Preston Love.
A special thanks to the Omaha Public Art Commission and to Love's Jazz & Art Center for their support of the project.
Residency
In addition to d

eveloping and realizing the LOVE mural, Adams developed a new body of work as part of his studio residency at Bemis Center. Titled Trusted Brands. This work was subsequently exhibited at Rush Philanthropic Arts in New York.
Adams also realized a workshop series The Art and Design of Hip Hop at Carver Bank, targeted at North Omaha youth, and spoke at schools and youth centers across Omaha on his work and career. Cey also found time to mentor students at the concurrent Urban Design Lab project at Bemis Center (led by resident artists Chloe Bass and Teal Gardner). Journalist Casey Logan captures his encounter with local student, Solomon Washington, in A Laboratory Experience at Bemis Center in Omaha Go.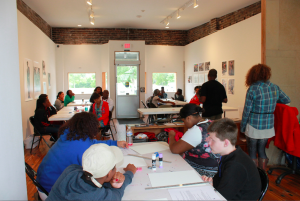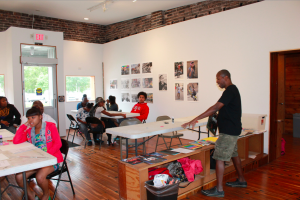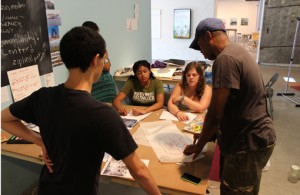 Adams returned to Omaha to present an additional body of work, Brand New, at The New BLK Gallery expanding upon the work he did during the residency, and building on the deep connections he made in the city.
Adams talks with local news station KTMV about the project.