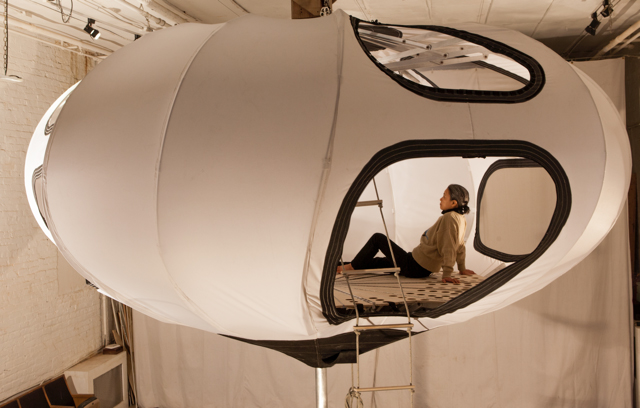 The Fifth House and PointB are pleased to announce the exhibition The Skypod Project, an exhibition of sculpture, photographic, and audio-visual works by artist Mark Parrish.
Open Reception:
Friday, September 16th, 7 – 11 PM
Fifth House 198 N. 4th St, Brooklyn, NY
near the Bedford L Train Station
The Centerpiece of the exhibition, the Skypod itself is a collapsible light-weight tent structure capable of hanging from trees, cliff faces, telephone poles or building facades allowing for suspension over diverse terrains.
This portable experience structure creates a mobile habitat for site-specific projects to evolve. At The Fifth House we will exhibit a working prototype of the Skypod that explores the context for the piece and situates the research Mark is concurrently doing at Dreamland – a creative community, the Fifth House's sibling organization, in the deep woods of upstate New York. Night skies, frog songs, Vista Tunnels (constructed poetics views into the wetlands and woodlands at Dreamland) will frame the work.
Inspired by recent trips to various locations around the world where he has been researching urban and natural settings for artistic and creative retreats, Parrish has returned to a project that has long been in gestation: designing portable habitats where individuals or like-minded groups can immerse themselves in a range of contexts from natural settings, to interstitial zones, and temporary spaces – to create, contemplate, and build cohesive communities.
"Parrish builds social sculptures, in a very literal sense", says curator for the exhibition, Amanda McDonald Crowley. "Moreover he equally activates personal experience and group dynamics. It is exciting to see him alternate this thinking between urban contexts and out into nature – where so many of his personal creative interventions have operated in intimate settings – while continuing to develop conceptual frameworks that are equal part about social interaction, and solitary contemplation."
The Skypod Project, Parrish's first solo gallery exhibition in 20 years, combines his experiences building social sculptures as live-work spaces, with his ongoing project to make in-situ works in natural contexts, and his passion for creating 'portable experience structures' – artworks that operate as an enabling apparatus for his audiences, and often also collaborators and co-conspirators, to engage with their surroundings.
Artist: Mark Parrish
Creative Collaborator: Sebastian Bach
Curator: Amanda McDonald Crowley
Project Manager: Lauren Comito
All-Night Party at Marcy North (upstairs) to follow the opening!
Exhibition dates: September 16 through October 30. Gallery Hours are Saturdays from 11:00 am-1:00 pm or by appointment.
About Mark Parrish
Mark Parrish is an American visionary, designer, and artist from Texas who has lived in New York since the 80's. Primarily self-taught, Parrish started his own studio in Austin in the mid 70's. His practice often involves analysis of movement and portability, cultural norms and systems of living. His work takes form in sculptural systems and synergetic architectural space, designed both as tools and as experiential spaces. For the last 20 years, Parrish founded and established an international artist community called PointB, which created short-term co-habitational spaces for mid-career creative professionals. Parrish also spearheads, the non-profit organization, PointB International, which continues to establish new locations worldwide.
About PointB
The PointB vision is a world enriched by the collaboration between global and local creative professionals questioning and transcending their familiar viewpoints while immersed in the social, scientific, and culturally enlightening challenges and inspiration of the moment.
Gallery Hours are Saturdays from 11:00 am-1:00 pm or by appointment.