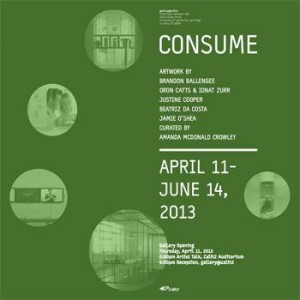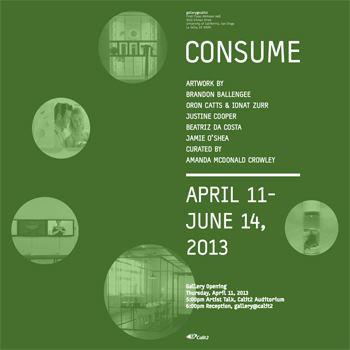 April 11th, 2013
Talks: 5pm
Reception: Reception
Calit2 Auditorium and gallery@calit2, Atkinson Hall, UC San Diego
Hosted by: gallery@calit2
Event details: California Institute for Telecommunications and Information Technology – calit2
I moderated artist presentations by: Brandon Ballengée, Justine Cooper, and Jamie O'Shea, with Oron Catts via teleconference at 5pm followed by an opening reception for the exhibition. Organized by gallery@calIT2
Video documentation of the talks:
CONSUME, is a group exhibition which has been informed by my current research at the intersection of art, technology and food systems. Projects in the gallery document interdisciplinary ideas pertaining to current discussions of health, eco-systems, and the environment. Works by: Brandon Ballengée, Oron Catts & Ionat Zurr, Justine Cooper, Beatriz da Costa, and Jamie O'Shea.
The public is welcome to attend the Artist Talk Thursday, April 11, 2013, which will be held in the Calit2 Auditorium at 5pm, and followed by a reception at 6pm. All gallery@calit2 events are FREE and open to the public.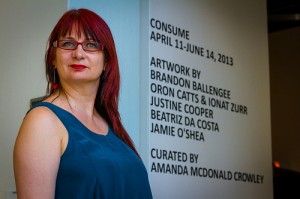 View further details of the CONSUME exhibition and artworks.
MORE INFORMATION:
Trish Stone, tstone@ucsd.edu