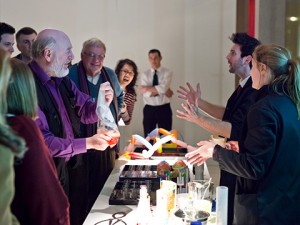 The second GastroLab that I have programmed with New Media Scotland for the 2014 Edinburgh Science Festival will focus the conversation on concepts of slow food.
Matthew Moore's Lifecycles will fill the screens for the evening. Part of the larger effort of the Digital Farm Collective, these short time-lapse films educate consumers on the produce they are purchasing by showing the growing process as it happens in the field.
Kate Rich and Kayle Brandon will unpack the secret recipe of cola using essential oils with their Cube Cola project. Perfect to wash down Black Market Pudding by John O'Shea.
Simon Yuill will talk about his Stackwalker project, focusing on crofting communities and migrant workers in Scotland's food and fish processing industries. Kevin O'Kane will Fife EATS (Edible and Tasty Spaces) project, a local initiative of unfenced public spaces which are planted with fruit, vegetable and flowers.
Ginny from Blue Sky Catering will be serving seasonal vegetables planted in edible soil with gribiche, and a very special black pudding, apple and bacon pie (with vegetarian haggis alternative). We'll also be serving Zukr Tea Cakes with our Cube Cola.
Sunday 13th April 2014, 7 for 7.30pm. £10/8
Informatics Forum, 10 Crichton Street, Edinburgh EH8 9AB
For advanced table reservations click here.
LateLab is a collaboration between the Edinburgh International Science Festival, New Media Scotland and the University of Edinburgh's School of Informatics.