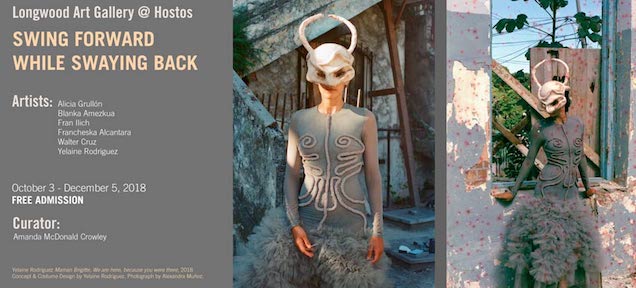 SWING FORWARD WHILE SWAYING BACK
October 3 to December 5, 2018
Longwood Art Gallery @ Hostos
450 Grand Concourse at 149th Street, Room C-190, Bronx, NY 10451
TUES – FRI, 1:00 to 7:00 pm.
Opening Reception: Wednesday, October 3, 5:30 to 8:30 pm
PARTICIPATING ARTISTS
Alicia Grullón | Blanka Amezkua | Fran Ilich | Francheska Alcantara | Walter Cruz | Yelaine Rodriguez
Curated by Amanda McDonald Crowley
The Hostos Center for the Arts & Culture, Bronx Council on the Arts and the Bronx Arts Alliance present Swing Forward While Swaying Back. Six Bronx artists realize collaborative installations that provocatively and poetically challenge their audiences. Each project simultaneously draws on rich and varied art, activist, and cultural histories to search for something beyond itself – whether in relation to economies of generosity and exchange, practical information about immigration rights, or complex conversations about cultural history.
"When I was drawing connections between the work by the artists in this exhibition, I was reflecting on Elaine Scarey's book On Beauty and Being Just," says McDonald Crowley. "Scarey writes: '[mental life] is porous, open to air and light, swings forward while swaying back, scatters its stripes in all directions and delights to find itself beached beside something invented only that morning or instead standing beside an alter from three millennia ago.' It struck me that these Bronx artists all find beauty in their objective to make work that clearly positions itself with a goal to ensure a more just future, but they all also look to their varied pasts to draw connections and to stay grounded in the present."
The artists in Swing Forward While Swaying Back collaborate with their audiences and with other artists to 'complete' their works. It is an exhibition that is about collaboration and invites participation.
Public Programs
Opening Reception
October 3
5:30 – 8:30 pm
Opening Reception with performances and interventions by Alicia Grullón, Fran Ilich with Gabriela Ceja, and Walter Cruz with Art Jones.
Alicia serves up Empanada and Information as part of ¡Empanar!
Fran in collaboration with Gabriela Ceja activates the Diego de la Vega Coffee Co-op: Against the Walls of Capital, serving coffee and inviting local community members to join this Bronx manifestation of the Coffee Co-op.
Bronx photographer Joe Conzo Jr documents the event.
Diego de la Vega Coffee Co-op Activations
October 17, 31; November 28
5:00 – 7:00 pm
Diego de la Vega Coffee Coop: Against the Walls of Capital
Every other Wednesday evening, the Diego de la Vega Experimental Economies and Finance research group will host open meetings in response to a gift of 50 kgs of Zapatista coffee from Ejercito Zapatista de Liberación Nacional to find paths to organize, resist and create alternatives Against the Walls of Capital.
Film Screening of Love and Labor on October 31, 5:00 – 7:00 pm with filmmakers Stephanie Andreou & Sarah Keeling
Closing Reception
December 5
5:30 – 8:30pm
Closing Reception with performance directed by Yelaine with Melanie Gonzalez and Benton C Bainbridge.
Youth Programs
Bronx Council on the Arts also offers bespoke youth programs by appointment. For more information and to book youth group appointments with exhibiting artists or the exhibition curator, please contact Longwood Art Gallery @ Hostos at 718-518-6728.
Opening Reception
Photos: Joe Conzo Jr
"Maman Brigitte Activation: We are here, because you were there", was a site-specific performance by Bronx-based collaborative Yelaine Rodriguez, Melaine Gonzalez, Benton C Bainbridge. This activation was performed on December 05, 2018 for the exhibition finissage.
Maman Brigitte came alive in a projected environment of translucent fabrics. The work is inspired by a quote by cultural theorist Stuart Hall and is a commentary of the existences of a new Black culture created from The New World. Concentrated in Haitian and Dominican roots and traditions this performance looks at Maman Brigitte, the death loa in Hoodoo, the protector of cemeteries and graves. She guards spirits in the transition from life to their death. Maman Brigitte is from an ongoing series which celebrates the loa in costume, dance and events.
Rodriguez, Gonzalez, Bainbridge make mixed media, installations, and performances at the intersection of wearable art, performance art, and media art. Conceptual design/sculpture by Yelaine Rodriguez; Cinematography and Video Projection visuals by Melanie Gonzalez; Media Design by Benton C Bainbridge. 'Maman Brigitte' was performed by Gina Goico.
Background about the exhibition, the artworks, and the artists is also available as a PDF here:
Swing Forward While Swaying Back background information.