Artists @ Eyebeam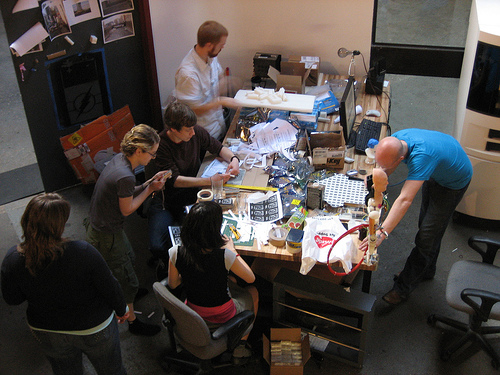 While Executive Director of Eyebeam from 2006 to 2011, I worked with staff and the Board to consolidate its residency and fellowship programs, and to develop strategies for public programming to reflect the research undertaken by artists and creative technologists working at Eyebeam. One of Eyebeam's primary aims is to facilitate situations whereby artists and creative technologists can spend concentrated periods of time researching new ideas, acquiring new skills, forming fruitful collaborations, playing with new media and technologies, and developing new bodies of work.
Artists @ Eyebeam
Core to Eyebeam's principles is the brokering of relationships between artists, hackers, coders, engineers and other creative technologists and the contexts we provide. The intention is to foster and facilitate relationships whereby artists can come together to germinate and hothouse their ideas, test their hypotheses, develop new processes and create new works through a period of deep immersion in a social context which is rich in technology, expertise and ideas. What we aim for is a form of "creative hydroponics" where ideas are seeded, tested, mutated, replicated, disseminated and realized.
Eyebeam pursued this philosophy through a range of programs. The Artists-in-Residence, Fellowship programs in the Production Studio and in 2006 also the R&D Lab. Employing teaching artists and supporting artists through Grant of Service, Commissions program in the Production Studio had been additional methods for bringing artists into Eyebeam.
In 2006 we adjusted the structure at Eyebeam so that the people working in the Labs comprised Fellows, Senior Fellows (nominated from current or recent Fellows), adjunct Honorary Fellows, Resident Artists, and Student Residents. The atelier model was fundamental to the concept of Eyebeam. The studio/workspace environments, in which the energies of artistic production, education and curatorial practice fuse, provide a unique, stimulating, and vital working context for creating art. This energy, along with the dialogue among curators, artists, and students in various stages of their career development, informed and inspired the creation of artworks that may not previously been imagined or produced. The program was managed in this format by Stephanie Hunt in 2007-2008, and by Roddy Schrock from 2009-2011 (with student residents supported by education staff, Liz Slagus and then Stephanie Pereira).
Research Initiatives served to contextualize work being produced as well as curatorial programming. Initiatives that were active while I worked at Eyebeam included: