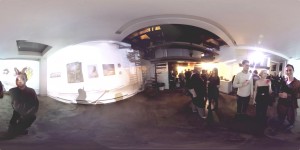 Join us on Friday, January 22, 2016 at 7:00pm
Follow the White Rabbit. Saying Goodbye to the PointB Brooklyn Building.
Tomorrow there will be a full moon and a blizzard in NYC, so come out tonight before you're stuck indoors for the weekend 😉
Guests will be invited to experience a virtual tour on an iPad or iPhone, as they navigate through the remaining and empty physical space. This augmented reality presents an opportunity to transcend time and preserve the memories held by the PointB Brooklyn location.