Adelaide Festival 2002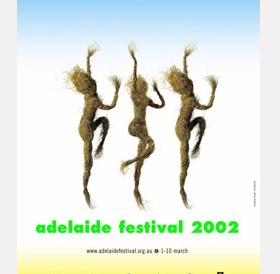 I was a member of the creative team (artistic directorate) responsible for developing program for the Adelaide Festival 2002.
Peter Sellars was the Artistic Director for the Festival. Associate Directors were: Angharad Wynne-Jones, Jonathan Parsons, Amanda McDonald Crowley, Lynette Wallworth, Waiata Telfer, Catherine Woolcock, Karl Telfer, Gay Bilson, Bridget Ikin.
The Festival was collaboratively programmed around the themes of Environmental Sustainability, the Right to Cultural Diversity, and Truth & Reconciliation.
Our intention was that the Festival be: "an opportunity to return to a primary experience of the function of art and culture. Putting the art back into culture, when culture functions as the imaginative space of society that actively engages in the issues and concerns of the day, celebrating the intangible, spiritual, epic nature of life. Fundamental to this function is process — in which artists and audiences contribute and participate — so that a point of performance or exhibition is experienced as one of many interfaces along a cultural journey. Debate is an essential component of this process because the discussion of ideas, the exchange of information and expertise, creates imaginative space for art, culture and society to combine meaningfully, and makes work that is in constant dialogue with its audiences."
The Adelaide Festival of Arts, established in 1960 is acknowledged as one of the world's great arts festivals. 40 years on, our culture and our community are vastly more diverse, and new technologies and new demographics open fantastic new possibilities for wider and deeper levels of participation. "Dynamic and different, Adelaide Festival 2002 was about more than simply buying a ticket, taking your seat and waiting to be entertained. It was about embarking on someone else's journey only to realise that it is your journey too, about being moved to act and respond."
In truth while the Festival was wonderful and exhilarating, the journey was not an easy one. Peter Sellars was obliged to resign from the position of artistic director only four months before the Festival opened, and the decision of the associate directors to continue to realise the program was not straight forward. Already in an interview in the local newspaper, the Adelaide Advertiser in May 2001, Peter was quoted as saying "One of the things I'm sticking by is that this will be a festival of seeds and not trees . . . you will see the trees in 2010." There were, in fact a number of outstanding programs. And there are a number of key legacies that the Festival arguably influenced, including: the establishment of a significant Film Festival in Adelaide; Indigenous welcomes are now standard at cultural events in Adelaide; the central square in Adelaide now has dual naming… Many of these things may have happened with time. I feel certain, however, that we also sowed some seeds for change.
Information is available for conVerge: where art and science meet, a program I co-curated for the Festival. I also have documentation of renaming project, Tarndanyungga, undertaken by a group of artists on the last night of the Festival. Little remains of the online presence for the Adelaide Festival 2002.
You can view the Festival Program from the image below: