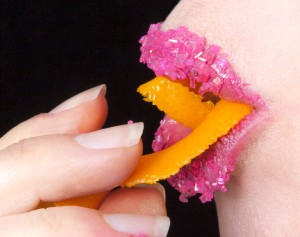 Special event at Radiator Gallery

Friday March 4, 2016. 5:00 – 8:00pm
Radiator Gallery, Long Island City, New York
10-61 Jackson Ave, LIC, NY 11106
Drop by to see food nostalgia during the Armory Arts Week Events, and join exhibiting artist Emilie Baltz for Nutritional Facts, a wearable edibles performative experience. Emilie will have foodstuffs available for you to realize a bit of your own edible body adornment (Lick Me!!).
food nostalgia, is an exhibition of paintings, photographs, video, sculpture and installation works by artists Cey Adams (New York), Emilie Baltz (New York), Disorientalism (Katherine Behar and Marianne M. Kim, New York/ Arizona), Gonzalo Fuenmajor (Miami, FL), Kira Nam Greene (New York) and Jonathan Stein (Coral Springs, FL).
"food nostalgia looks at food in contemporary America through a lens of fast food iconography and industrial food production" says curator, Amanda McDonald Crowley. "Participating artists variously draw on popular cultural references, brand recognition, bodies, memory, nostalgia, and playfulness. They ask us to think about our relationship to our colonial pasts, feminist thinking, cultural diversity, and marketing culture. The corporatisation of our food systems is deeply entrenched in our psyche; historical and contemporary trade routes of our food affect our cultural landscape."
As a framework to explore how we cook, eat, and consume, food nostalgia is a platform to share ideas, and food.
Emilie Baltz is an experimental artist, director and educator with a focus on food and sensory storytelling. She creates playful and unconventional work that moves people to discover new worlds one lick, suck, bite, sniff, and gulp at a time.